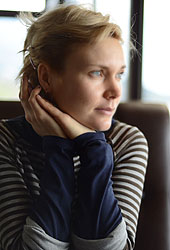 Elena Kubysheva
Born in 1977 in Leninsk-Kuznetskiy, Kemerovo Region. Graduated from the Kemerovo Art College and the Surikov Art Institute in Moscow.





Elena's paintings remind of tapestries due to their attention to details and texture. The world around the artist is described in an affectionate and careful way to let the viewers inhabit it and go through its little stories. The wide variety of subjects is taken from the modern life.

Series of drawings and watercolours made during travelling may be a guide not only for places, but also for the artist's impressions, they reflect her admiration of nature and cities.





Exhibitions:

2003-2010 – participation in Moscow and Russian exhibitions of young artists, Central House of Artists and Show-room of MUA at Kuznetskiy Most Street, Moscow

2011 – "Group 13" exhibition in Central House of Artists, Moscow

2012 – a personal exhibition in the Children's Art School, Leninsk-Kuznetskiy




Her paintings are in private collections in Russia, Germany, France, Japan, Cyprus, Ukraine, Belorussia, and Latvia.